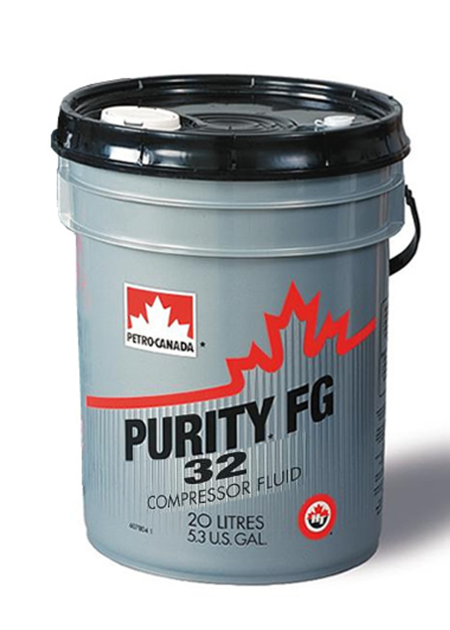 PURITY™ FG Compressor Fluid provides lubrication for air compressors and vacuum pumps in food processing plants. PURITY FG Compressor Fluid provides strong resistance to sludge and varnish formation:
Outstanding oxidation resistance
Up to 4,000-hour service in rotary screw compressors
Superb protection against rust and corrosion
Available in ISO VG 32, 46, 68, 100 food-grade compressor oil viscosity grades
Product Description
Introduction
Petro-Canada's PURITY FG Compressor Fluids are advanced food grade lubricants formulated to deliver superior per formance and longer service life than leading specialty food grade lubricants. PURITY FG's superiority results from more than 20 years formulating experience. Using the patented HT purity process, Petro-Canada produces a 99.9% pure, crystal clear base oil – the purest in the world. Free of impurities that can hinder per formance and fortified with specially selected per formance additives, PURITY FG Compressor Fluids have better resistance to thermal and oxidative breakdown than leading specialty food grade fluids. Tough enough to handle wet food processing environments with wide temperature swings, PURITY FG Compressor Fluids extend compressor life and reduce operational downtime.
PURITY FG Compressor Fluids also meet the highest food industry purity standards and fit perfectly in HACCP (Hazard Analysis and Critical Control Point) and GMP (Good Manufacturing Practice) plans. All fluid components comply with FDA regulation 21 CFR 178.3570 "Lubricants with incidental food contact". All fluids are H1 registered by NSF and meet the requirements of the U.S. Department of Agriculture (USDA) as H1 lubricants for use in federally inspected meat and poultry plants where incidental food contact may occur. They are approved by the Canadian Food Inspection Agency for use in registered food processing plants and they are certified by Star K for use in the preparation of kosher food.
Features and Benefits
1. Resists oxidative breakdown better than leading specialty food grade compressor fluids
• Extended fluid life – up to 4,000 hours in rotary screw compressors
• Keeps pneumatics free of sludge and varnish
• Reduces power consumption by up to 3% by staying in grade
• Reduces operating costs by extending periods between fluid change-outs
2. Superior separation from water contamination
• Improves efficiency of condensate recovery
3. Better thermal and oxidative stability than leading specialty food grade compressor fluids
• Minimizes formation of harmful varnish and lacquer deposits on rotors and separators of rotary compressors, and carbon deposits on valve assembles of reciprocating units
• Parts stay cleaner longer, reducing maintenance costs
4. Ashless and odourless
• Clean per formance
• Provides a more pleasant work environment
• Easy disposal because used fluids are a non hazardous waste
5. Low volatility
• Minimizes top-up
• Improves efficiency in vacuum pump applications
6. Fully approved for use in and around food processing areas
• H1 registered by NSF
• All fluids meet the requirements of the U.S. Department of Agriculture (USDA) as H1 lubricants for use in federally inspected meat and poultry plants where incidental food contact may occur
• All fluid components comply with FDA 21 CFR 178.3570 "Lubricants with incidental food contact"
• Approved by the Canadian Food Inspection Agency for use in registered food processing plants
• Certified by Star K for use in the preparation of kosher food
• Certified Halal by IFANCA
7. Free of genetically modified substances (GMS)
8. Maintains food allergy safety
• Free of gluten
• Contains no peanuts, tree nuts, or their derivatives
• Manufactured in a facility that does not manufacture, store, or otherwise handle any peanut or tree nut product
Applications
PURITY FG Compressor Fluids may be safely used to lubricate air compressors and vacuum pumps used for producing, manufacturing, preparing, treating or packaging food. Our recommendations for fluid change-out intervals are:
Typical Performance Data