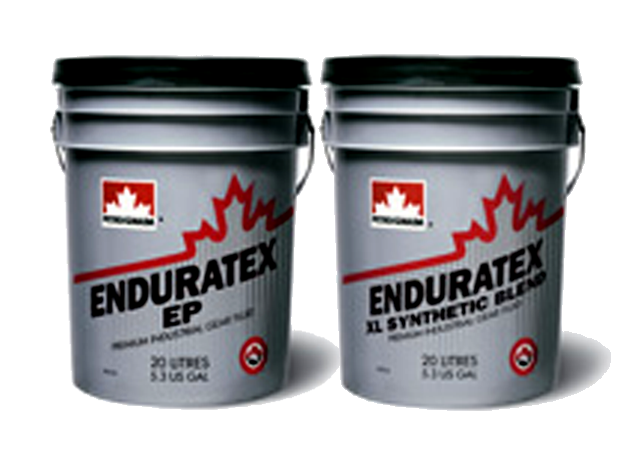 Petro-Canada's ENDURATEX EP Gear Oils are premium quality, extreme-pressure lubricants designed for use in enclosed industrial gear drives operating under normal, heavy or shockloaded conditions.
Product Description
Introduction
Petro-Canada's ENDURATEX EP Gear Oils are premium quality, extreme-pressure lubricants designed for use in enclosed industrial gear drives operating under normal, heavy or shockloaded conditions. They are also recommended for lubricating plain or anti-friction bearings running under heavy or shock- loaded conditions. ENDURATEX EP Gear Oils are specially formulated to deliver sustained long-life, antiwear and extreme pressure protection to industrial gear drives and bearings. These oils are available in nine ISO viscosity grades.
Features and Benefits
1. Exceptional long life
• Reduces operating and maintenance costs
• Longer oil life helps extend time between oil changes
• Withstands high operating temperatures for longer periods
• Reduces build-up of harmful sludge and varnish deposits for reduced wear and longer oil life
2. Excellent film strength and extreme pressure properties for ENDURATEX EP equipment protection
• Prevents seizure, scuffing or spalling of gear teeth and bearing surfaces under shock-loaded conditions
• Reduces gear and bearing wear
• Reduces maintenance costs and extends equipment life
3. Protects against rust and corrosion
• Prevents iron parts from rusting
• Protects copper-containing bearings, bushings, etc., from corrosive attack
• Extends equipment life
4. Excellent water separability
• Prevents emulsion formation
• Allows water to be drained off before oil is re-circulated
• Eliminates corrosive damage to metal parts when water present
5. Low foaming tendency
• Ensures a continuous lubricant film present at all times
• Prevents overflow from gear-boxes and oil reservoirs
• Reduces the possibility of cavitation damage to oil circulating pumps where installed
Applications
Petro-Canada ENDURATEX EP Gear Oils are versatile, high quality lubricants recommended for use in all types of enclosed industrial gear drives where an extreme pressure gear oil is specified. They are also recommended for the lubrication of all types of heavy or shock-loaded bearings. In addition, the low viscosity grades of ENDURATEX EP are effective wire-rope lubricants. ENDURATEX EP Oils offer excellent gear and bearing protection and long service life in a wide range of gear designs. These include:
• Spur, Internal, Planetary, Rack & Pinion, Bevel, Spiral-Bevel, Helical, Herringbone and Worm gears
ENDURATEX EP Gear Oils are approved by many manufacturers of industrial gear drives including:
• Greey-Lightnin, Hansen Transmissions, Kraus Maffei, David Brown, etc.
• Enduratex EP 68 has Metso Paper approval (listed under prior name: ULTIMA 68) and is recommended for pulp and paper companies using thermo-mechanical pulping processes (TMP)
• ENDURATEX EP 150 is GMLS2 approved
• ENDURATEX EP Gear Oils are suitable for use in situations requiring DIN 51517 Part 3, ISO 12925 – Type 1 CKC or AGMA 9005-D95 specifications.
ENDURATEX XL SYNTHETIC BLENDS
ENDURATEX XL Synthetic Blend are multigrade EP gear oils designed with all the same benefits but with the additional advantage of eliminating seasonal changeouts-available in 68/150 and 68/220 grades. 68/150 delivers superior low temperature properties versus leading all season competitive products for easier cold start-ups and better equipment protection. 68/220 supports winter requirements (68 grade) and summer requirements (220 grade). 68/220 is especially recommended for gearboxes exposed to temperature extremes. It has reserve EP capacity to handle gearbox overloads and sufficient low temperature fluidity to perform well in exposed locations giving you extended drain intervals and minimized downtime.
With splash lubricated gear drives, best results are obtained by maintaining the correct oil level, i.e. the lowest teeth should be half submerged when at rest. The American Gear Manufacturers' Association (AGMA) has published several gear lubricant standards for industrial machinery. ENDURATEX EP Oils are recommended for use, where the AGMA specifies the following EP type oils: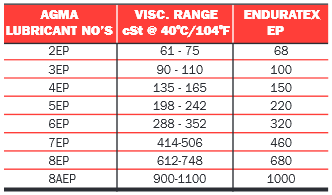 For applications where no specific AGMA recommendation exists, the appropriate ENDURATEX EP viscosity grade can be determined from the following tables: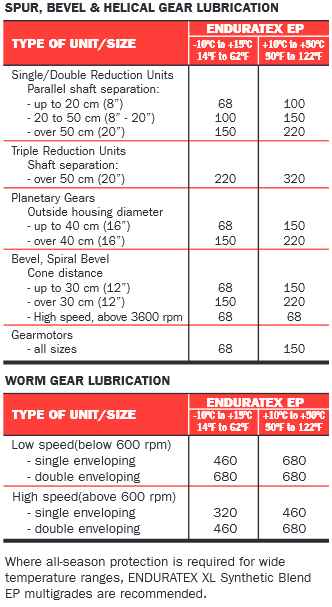 Where all-season protection is required for wide temperature ranges, ENDURATEX XL Synthetic Blend EP multigrades are recommended.